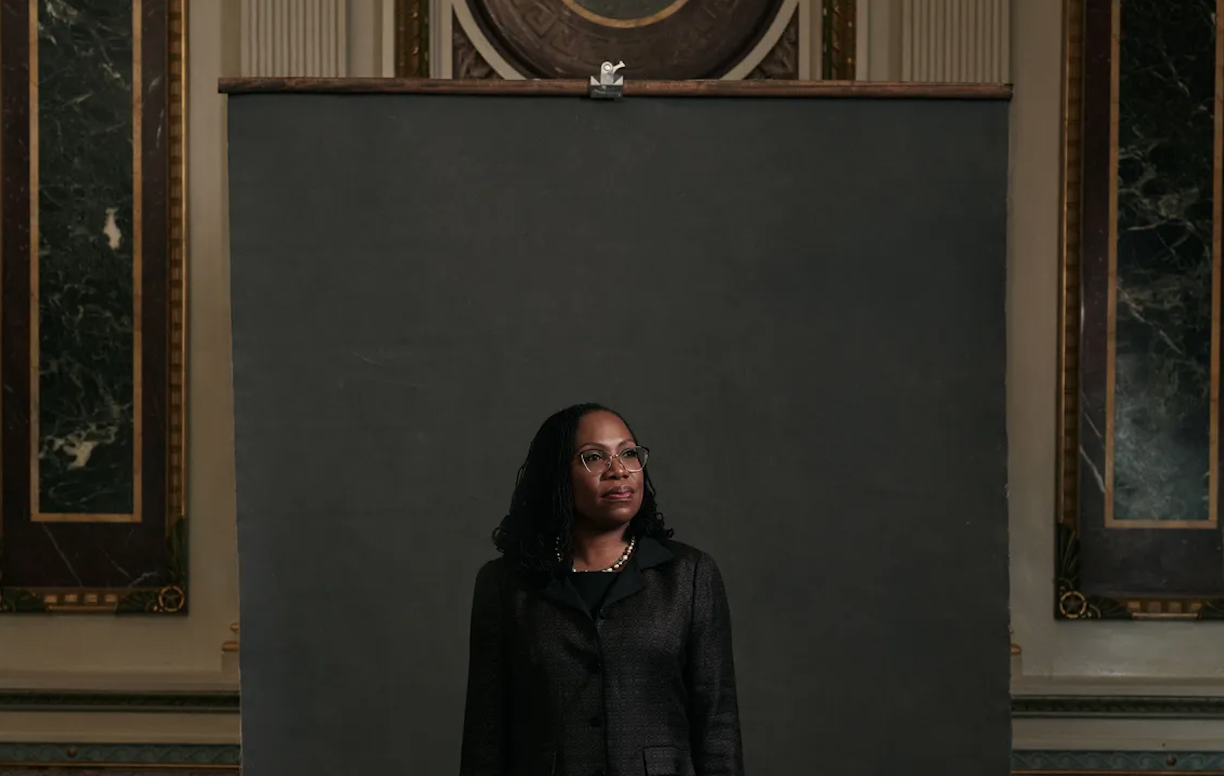 IN A FORMAL, TRADITIONAL, DARK-TONED ROOM, Judge Ketanji Brown Jackson represented his first official portrait. Dressed in black, she posed against a black backdrop and studio lighting, the trappings of contemporary photography temporarily inserted into the complex space of the White House, literally disrupting history.
The Senate confirmed Jackson to the United States Supreme Court on Thursday, April 7. The vote was 53 to 47, with the 50 Senate Democrats (including two independents who caucus with the party) and three Republicans voting in favor of his nomination. She slightly bipartisan confirmation is historic. In June, when Jackson is sworn in as an associate judge, she will be the first black woman to serve on the nation's highest court.

On Friday, the White House released the first official portrait of Ketanji Brown Jackson, photographed by Lelanie Foster. On Instagram, Foster posted the portrait and captioned it, "It was an honor, your honor. Today we made history.❤️ #KBJ.
A young black photographer from the Bronx, NY, Lelanie Foster took his portrait on Friday morning. Wearing a determined and confident expression, Jackson looked away from the camera, looking up and to the left, watching the progress.
The occasion was a "great experience" for the photographer. "I definitely had an 'Oh my God' moment and then the honor and the gratitude and all the other emotions followed. The pressure was on to get an iconic shot! says Vogue.
After the portrait session, Jackson joined President Joe Biden and Vice President Kamala Harris on the South Lawn of the White House to be officially introduced to the nation and make him first public remarks since his confirmation. "It took 232 years and 115 prior nominations for a black woman to be selected to serve on the Supreme Court of the United States. But we succeeded. We made it, all of us. All of us," Jackson said to applause.
"I definitely had an 'Oh my God' moment, and then the honor and the gratitude and all the other emotions followed. The pressure was on to get an iconic shot! —Lélanie Foster
Foster's portfolio is full of powerful portraits. The woman is the subject of his most recent work. The mission with Jackson followed a project born from his appointment in the news. To favor photographed women from the Harvard Black Law Students Association for the New York Times.
Jackson is an alumnus of the organization whose members, men and women, celebrated and were encouraged and inspired by her rise breaking through barriers from Harvard College graduate, Harvard Law School graduate, Clerk of the Supreme Court, Advocate public and Vice President of the United States. Sentencing Commission, United States District Court Judge, United States Court of Appeals Judge, and ultimately a life appointment to the United States Supreme Court.
"But there is a comfort in the community. There is a comfort in the shared experience. And now we have a model that has shown us what it's going to take," Mariah K. Watson, the association's president, told The Times.
Prior to Jackson, Foster's work focused primarily on fashion and editorial photography and entertainment industry shoots. She photographed on the set of "Queen & Slim" and the HBO series "Insecure", film and television projects led by black women. Foster captured artist Lorraine O'Grady for the Times and for W Magazine photographed artists Tau Lewis, Tiona Nekkia McClodden, Kandis Williams, alongside gallerist Ebony L. Haynes. She has also done portraits of Serena Williams and Misty Copeland for Architectural Digest (both are art collectors) and Andra Day for New York magazine's The Cut.
Interviewed by The Cut about her time with Jackson, Foster said her husband and two daughters were in attendance and with her subject's approval she played Sade throughout the 45-minute portrait session. . (At one point, the future Supreme Court justice was dancing to the music.)
Foster said her approach to portraiture was consistent with her vision to photograph all black women. "It's always a matter of balance. It's always a matter of strength, royalty and reflection," she said. told The Cut. "He's always my guide when I photograph us. It's also how I guide through a shoot with us – I mean with anyone, but certainly the principle. And it's important to express those feelings while we're shooting so that the connection is established between me and the subject. This is what we strive to create. CT
MORE about Lelanie Foster on her website and instagram
FIND MORE About Judge Jackson and his appointment to the Supreme Court
LEARN MORE full transcript post-confirmation remarks by Judge Ketanji Brown Jackson at the White House on April 8
LEARN MORE three days of confirmation of charges hearings, Judge Jackson faced relentless and hostile questioning by Republicans on the Senate Judiciary Committee
READ MORE In Washington, DC, the artist Nia Keturah Calhoun spent the last week painting a mural honoring Judge Ketanji Brown Jackson and it was to be unveiled today with a block party
BOOKSHELF
In her remarks at the White House on April 8, 2022, Justice Ketanji Brown Jackson paid tribute to those who came before her, including United States Supreme Court Justice Thurgood Marshall and "her personal heroine," Justice Constance Baker Motley. "Thurgood Marshall: American Revolutionary" is the definitive biography of the first black person to serve on the Supreme Court. "Thurgood Marshall: His Speeches, Writings, Arguments, Opinions, and Recollections (The Library of Black America series)" collect their words and arguments. In 1966, Motley became the first African-American woman to serve on the federal court. Prior to serving as Manhattan Borough President and U.S. District Court judge, Motley worked as an attorney at the NAACP Legal Defense Fund and Educational Fund, assisting Marshall during his tenure there. She successfully argued nine cases before the U.S. Supreme Court and represented James Meredith, the first African-American student admitted to the University of Mississippi in 1962. Enrolling in the racially segregated school necessitated the federal government intervention. Motley is the author of the memoirs "Equal justice before the law." Two more recent books also document his historical journey:Constance Baker Motley: One Woman's Fight for Civil Rights and Equality Under the Law » and "Civil Rights Queen: Constance Baker Motley and the Fight for Equality." Also consider "Thurgood", "The Greatest Tribute: The Life, Leadership and Legacy of Thurgood Marshall," "Little Leaders: Bold Women in Black History" and "Little Legends: Exceptional Men in Black History", inspirational books for children.
TYPE OF SUPPORTING CULTURE
Do you like and appreciate the type of culture? Please consider supporting its ongoing production by making a donation. Culture Type is an independent art history project that requires countless hours and expenses to research, report, write and produce. To help support it, make a one-time donation or sign up for a recurring monthly contribution. It just takes a minute. Thank you very much for your support.