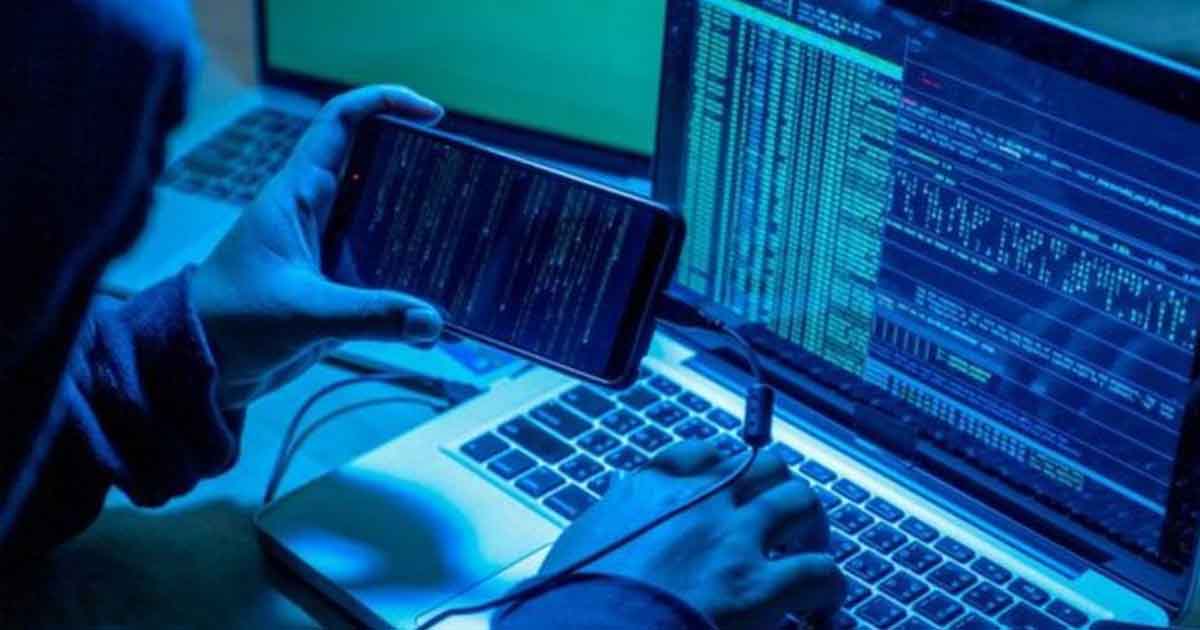 Cybercrime refers to activity carried out using computers and the Internet. We say it is an illegal act in which a computer can be used as a tool, a target or a place for crime. It also includes traditional crimes in which computers are used as a tool to enable illicit activity.
We can classify cybercrimes in two ways:
Computer as target:- it is the use of a computer to other computers. i.e. hacking, virus attacks, etc.
The Computer as a weapon: – It is the use of computers to commit crimes in the real world. i.e. cyberterrorism, credit card fraud, etc.
Read more: 60,000 cybercrimes reported in 3 months: DG FIA
Another categorization of cyber is as follows;
against no one
against property
against the government
Types of cybercrimes:
1. Hacking
Hacking, a simple term, refers to illegal intrusion into a computer system and/or network. It is also known as "Cracking". Govt. Websites are a prime target for hackers due to media coverage. Hackers appreciate media coverage. Motives behind hacking include greed, power, publicity, revenge, adventure, desire to access forbidden information, etc.
2. Spread of viruses
Malicious software that attaches itself to other software. For example, viruses, worms, Trojan horses, website hijacking, email bombings, etc.
3. Computer vandalism
Damaging or destroying data instead of stealing it or misusing it is called cyber vandalism. These are the programs that attach themselves to another file and run around.
4. Software piracy
Software theft using illegal means to copy genuine or counterfeit programs and distribution of products intended to pass as the original.
5. Cyberterrorism
Terrorist attacks on the Internet consist of distributed denial of service attacks, hateful websites and hateful emails, service network attacks, etc.
6. Adult Content on the Web / Child Abuse
The internet is widely used to reach and sexually abuse children, all over the world. As more and more households have excess internet, more children will use the internet and more likely to become victims of child molestation. They use false identities to reach children and abuse them.
Read more: Pakistani man jailed for blasphemy under cybercrime laws for first time
Cyber ​​laws around the world
Here are some laws imposed worldwide against cyber crimes;
Electronic Commerce Act (Ireland)
Electronic Transactions Act (UK, USA, Australia, Singapore, New Zealand)
Electronic Transactions Ordinance (Hong Kong)
Information Technology Act (India)
Information and Communication Technology Bill (Bangladesh)
Cyber ​​laws in Pakistan
There are a number of cybercrime laws in Pakistan, they deal not only with cybercrimes but also with all dimensions of computer and web issues. Basically, some laws had been passed by the government. Pakistan to control cyber crimes, some of them are given below;
Electronic Transmission Order 2002
Electronic/Cybercrime Bill 2007
Prevention of Electronic Crimes Act 2016
A brief description of all Acts, Sections, Executions and Sanctions is given below;
1. Cyberterrorism/online recruitment or financing of terrorism
Anyone who accesses, duplicates or overwrites any master data framework for the purpose of creating a sense of dread, frenzy or fragility in government or people at large or any area of ​​the general population or a network or faction or to create a sense of terror or uncertainty in the eyes of the public may be rebuffed with detention of either representation for up to 14 years or such fine may be extended to 50 million rupees or both. For example You access the back-end system of a television channel and start broadcasting a message that may cause panic.
Read more: Sharmila Faruqi slams Nadia Khan, says she'll report her for cybercrime
Anyone who prepares or distributes data, through any data framework or gimmick that invites or inspires funding, or selects individuals for fear-based oppression or psychological oppression schemes will be repelled by a custodial sentence of up to go up to seven years or with a fine or with both. For instance; you run Facebook groups or admin pages and urge individuals to support the TTP, or you run a Whatsapp group and plan a terrorist attack.
2. Electronic Fraud
Anyone who, in expectation of an illegitimate addition, meddles with or uses any data frame, gadget or information or induces an individual to enter into a relationship or deceives an individual, what act or exclusion is likely to harm or harm to that individual or another individual shall be repelled with a term of imprisonment of up to two years or with a fine of up to ten million rupees or both. For instance; you enter into a relationship with someone with the intention of causing financial harm.
3. Create/disseminate explicit images or videos of an individual/child
Anyone who deliberately and openly exposes, displays or transmits data which,
Overlays a photo of a characteristic individual's substance over any explicitly voiced image or video
Incorporates a photo or video of a characteristic individual in an explicitly unequivocal form
Threatens a characteristic individual with any sexual display, or any explicitly unequivocal image or video of a characteristic individual
Develops, lures or induces a characteristic individual to take part in an explicitly unequivocal act,
The use of a data frame to injure a characteristic individual or his notoriety or to revenge, or to show contempt or to coerce, will be repelled with a term of imprisonment of up to five years or with a line that may extend up to five years. million rupees or both. For instance; You photoshop an image of a person so that the face is used near a naked body or you make an explicit video or photos of someone in private
Or you communicate/post such videos or images on Facebook or via another medium (such as Whatsapp). You use any explicit video to extort/blackmail someone.
4. Hacking/ Malicious codes/ Unauthorized access to an information system or to data
If someone screens an individual through mail, instant message or any other type of electronic correspondence, you can be jailed for up to three years and fined Rs. 1 million or both. Anyone who composes, offers, makes available, disperses or transmits harmful code for the purpose of damaging any repository of data or information resulting in the desecration, spraying, modification, concealment, burglary, or loss of the repository of data or information shall be repelled with imprisonment for a term of up to two years or with a fine of up to one million rupees or both.
For instance; you hack someone with the intention of establishing a relationship that you are or can establish, then monitor the email. You write a virus, develop a mobile app to spy on someone, develop an app to spread a virus, attack someone with DDoS, and write code that can be used to destroy a hard drive.
Information system access means: obtaining access, control or the ability to use all or part of a system which could be a laptop, mobile phone, tablet or any other type of computer system
Data Access: Obtaining access, control or the ability to use any data or traffic data i.e. email, SMS, fax, print or any type of computer data .
cyber security
This involves the protection of sensitive personal and commercial information by preventing, intervening, detecting and responding to various online attacks. Simply, it actually prevents the cyber attack.
Privacy Policy
A privacy policy is an authoritative record that details how a site accumulates, stores, offers, and sells information about its guests. This information typically includes such things as the buyer's name, address, date of birth, marital status, treatment history, and conduct.
Read more: Covid-19 breeds cybercrime
Before submitting your username, email, address, or any personal identity to a website, we must first review the site's privacy policy.
Keep the software up to date
If a vendor reduces patches for a software operating system device, install them as soon as possible. Installing them will reduce the chances of attackers taking advantage of them. Use of good and strong passwords containing different types of combinations. Never use options that allow you to use a computer to save or remember your passwords.
Remote connectivity disabled
Some devices like cell phones and PDAs are equipped with wireless technologies, such as Bluetooth, which can be connected to other devices and computers. These features are also a source of threat. These functions should be disabled when not in use.
Other Safety Tips
Use anti-virus software.
Insert firewalls and pop-up blockers.
Uninstall unnecessary software.
Maintain backup.
Check Security
The writer is currently an intern at the Ministry of Defense in Islamabad. The opinions expressed in this article are those of the author and do not necessarily reflect the editorial policy of Global Village Space