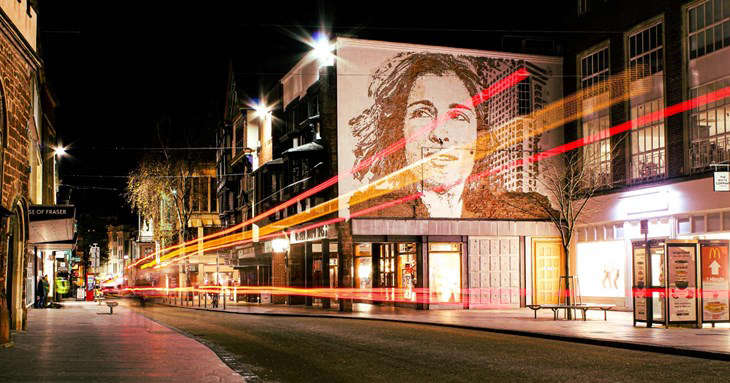 Alexandre Farto Street art (image courtesy of Exeter City Council)
She wants to be a city of culture
A new public art strategy to reinforce Exeter's ambition to become a leading cultural city has been approved by councillors.
The strategy proposes that all art for the city, including public art, meets key criteria of quality, inclusion and sustainability, and that a set of shared values ​​be adopted by all partners to foster positive collaboration. .
It was written by Art Work Exeter and commissioned by Exeter City Council, in partnership with the University of Exeter and Exeter Culture, to make the most of future public art opportunities in a growing city.
Art Work Exeter has consulted with artists and creators, curators and curators, consultants and specialists, community groups and individuals from across the city and beyond.
Exeter's aspiration to be a City of Culture is set out in the City Council's new corporate clan. It says Exeter will innovate and lead in the areas of the environment, wellbeing, cultural literacy, creative design and heritage innovation to build a living city where everyone thrives.
The city applied to become a City of Culture in a joint bid with Torbay last year, but dropped out in the first round.
Now Deputy Leader of the City Council, Cllr Laura Wright, who is senior adviser for culture, said: 'Public art plays a key role in helping to define places and giving people a sense of pride in their community. and their city. The Public Art Strategy for Exeter sets out the best way to achieve this, and I am very pleased that its recommendations can now begin to be implemented.
The report recognizes that public art, in essence, is creative work located in the public domain, in places and spaces freely accessible to all and which may be permanent or temporary.
This can include visual arts such as murals and street art, sculpture, video, sound and digital media, as well as performance, music and theatre. It can be a soundscape, a luminous work, a landscape intervention or an interactive installation, street furniture or an architectural statement.