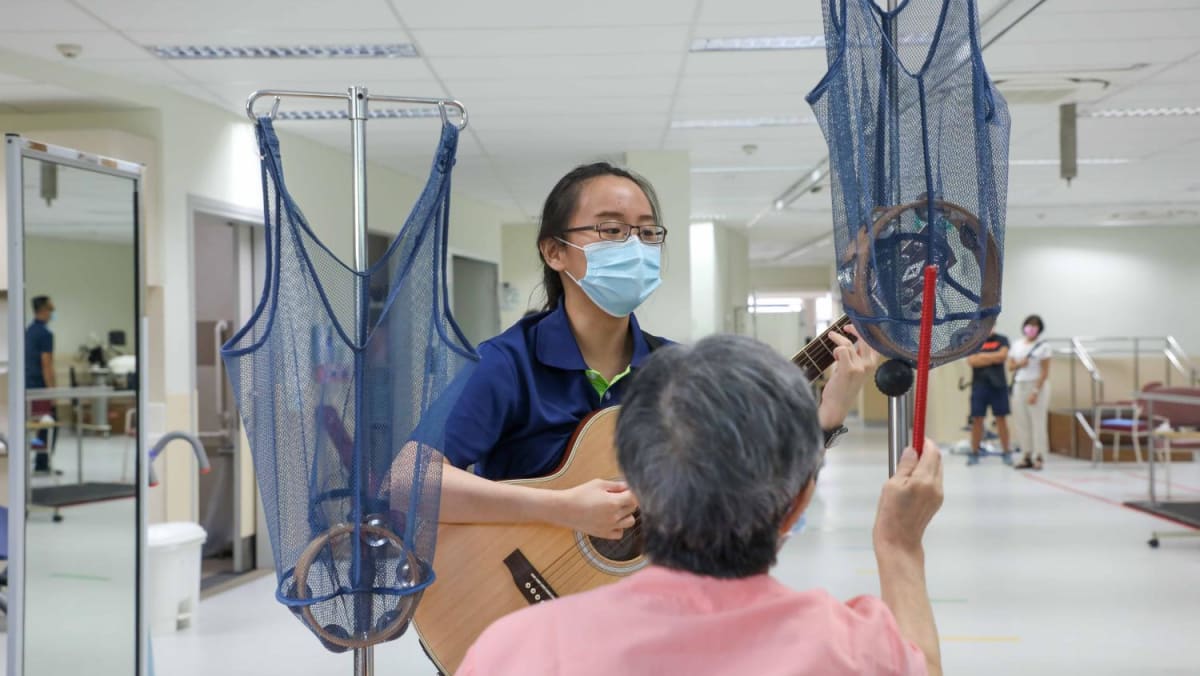 SINGAPORE – As a harpist and during her musical studies, Ms. Karen Koh has performed with the Singapore Symphony Orchestra, in five-star hotels here and with the Kingdom Hearts Orchestra World Tour, which is the official concert of the full orchestra of Kingdom Hearts video. game soundtrack.
These days, however, the 31-year-old professional musician plays for a very different audience.
Now in training to become a certified music therapist, Ms Koh works with patients at St Luke's Hospital, a community hospital in Bukit Batok. She is doing her internship there.
Some patients Ms Koh sees have suffered a stroke and are trying to get back on their feet. Others struggle with the debilitating effects of Parkinson's disease or dementia. Another group she works with is in palliative care and is in its final days.
In the hospital, she usually sings, plays guitar, piano, and other small percussion instruments during therapy. Sometimes she may use a lever harp, which is a smaller version of the regular harp.
There are no enthusiastic applause or standing ovations in the hospital. Yet the satisfaction Ms Koh derives from supporting these patients keeps her going, even if there are uncertainties about a career change during the Covid-19 pandemic.
"In a classical music show, the audience pays to listen to you, they want to be there.
"With music therapy, some patients may react in their own way by saying, 'Leave me alone' or 'I don't want to do anything.'
"It's especially at the start of treatment because they may not be in a good emotional state," Ms Koh said.
"A lot of the patients we work with have strokes and dementia, and there's a loss of bodily functions. When you lose your independence, it's normal to have grief, to be in a bad mood .
WHY MUSIC THERAPY AND HOW IT WORKS
Music therapy is the clinical use of music to achieve individualized goals. As part of health care here, it is offered as a "paramedic health service".
Music therapy is therefore a relatively niche career option in Singapore.
Mr. Calvin Eng, President of the Association for Music Therapy Singapore (AMTS), said there were only 36 accredited music therapists in Singapore.
The AMTS is the professional association for music therapists here.
To practice in Singapore, music therapists must be accredited by an approved music therapy program in their country of training, Eng said.
They complete a comprehensive bachelor's or master's degree program, which typically covers music foundations, music therapy foundations, and clinical foundations such as psychology, anatomy, and counseling.
At St Luke's Hospital, music therapy is offered as part of its range of rehabilitation services.
Dr Tan Xueli, the lead music therapist there, said the hospital now has one of the largest teams of music therapists in Singapore.