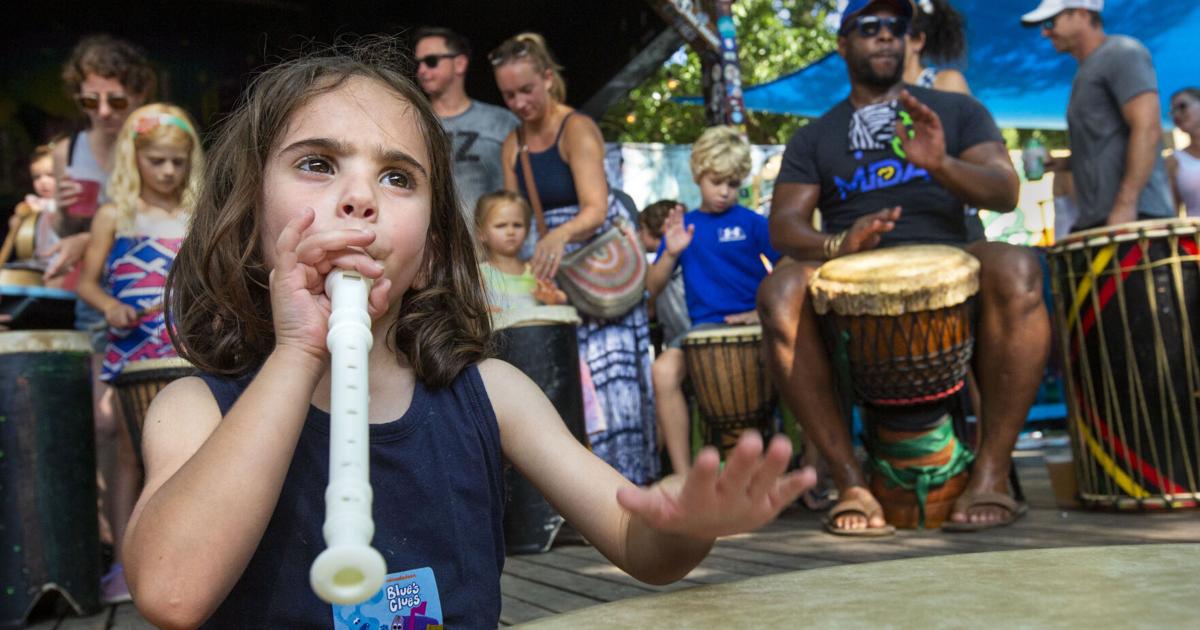 JAMES ISLAND — Marley Zen Harwyn, 3, and Zoe Sunshine Harwyn, 2, were a little shy at first when they joined a lively drumming circle of about 30 kids at the Charleston Pour House.
Their mother, Ashley Harwyn, said she had been frequenting the James Island concert hall for a decade now, but this was the first time her daughters had attended the typically monthly drumming circle organized by Heal with hearts.
The organization offers art, dance and music therapy classes to children in the community, focusing on low-income schools. The free Pour House program has been around for 10 years now.
"We all jam at home," Harwyn said, noting that her husband plays guitar. "But it's about community, learning to make noise and music together – introducing them to the hippie lifestyle."
A sphere of West African djembes took up most of the outer deck on July 9, with paint stations on one side and market vendors selling paintings and jewelry on the other. One of the spinning drum instructors, Sinclair Jamison, called out the names of particular traditional rhythms and started showing the band.
Small hands attempted to imitate sounds like Kassa, a celebration of a new harvest, and Yankadi, a romantic rhythm often played at weddings.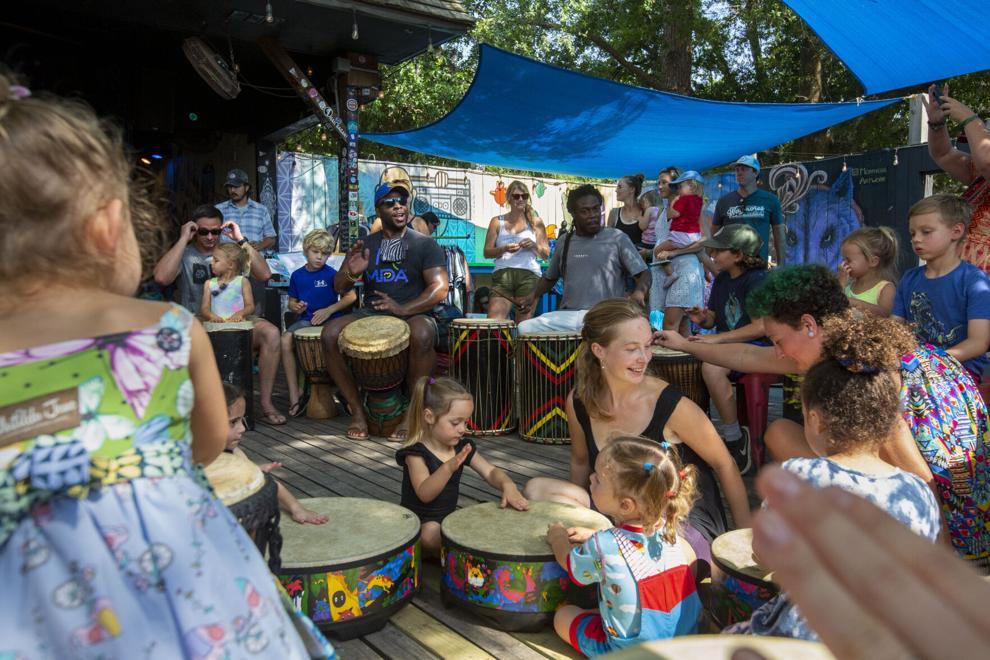 Jamison's mother runs the African dance and drum production Deninufay, a company whose mission is to share the West African drumming tradition and uplift young people one dance at a time. He has been teaching at the Heal with Hearts children's drumming circle a few times a year since 2016.
"For me, it's all about culture and excitement and spreading that out into the community," Jamison said. "Kids love it. It makes me feel like a rock star."
It is about sharing the joy while simultaneously educating the youth of the region on West African traditions, he added.
"We break it down, let them know where it came from, and then they tune in and play with us," Jamison said. "It's really educational."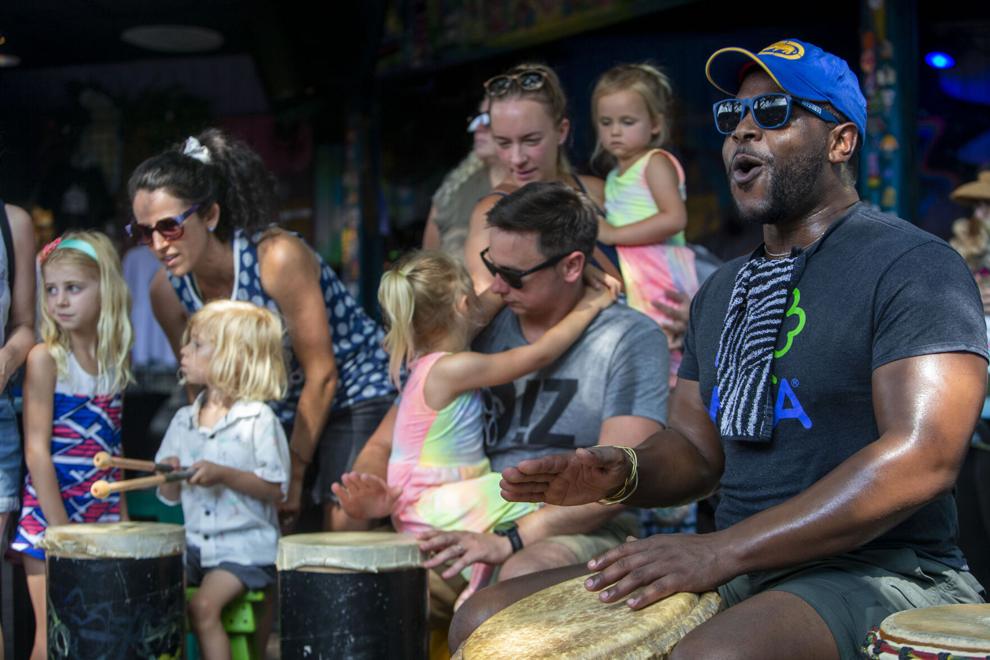 Wes Powers, local percussion teacher and drummer for Solar powered trainand Cody Dixon of the arts advocacy nonprofit Soul Power Productions are also rotating instructors for the program.
Heal with Hearts draws from a group of around 20 local teachers, said founder Megen Mims.
Although Mims is not a musician herself (she is a visual arts teacher), she has seen the direct impact of music in decreasing anxiety and increasing self-esteem.
"Everything that music does to relieve pain, worries and provide a calming effect, I've seen that impact on drum circles," she said.
Some infants fall asleep to soothing rhythms, she shared. Other young children have taken to the drums wholeheartedly, such as Gus, the 11-year-old son of Pour House owner Alex Harris. He started coming into drumming circles when he was just one year old. Now, he seems to be an expert on the group; at one point he moved to sit right next to Jamison and help guide the circle himself.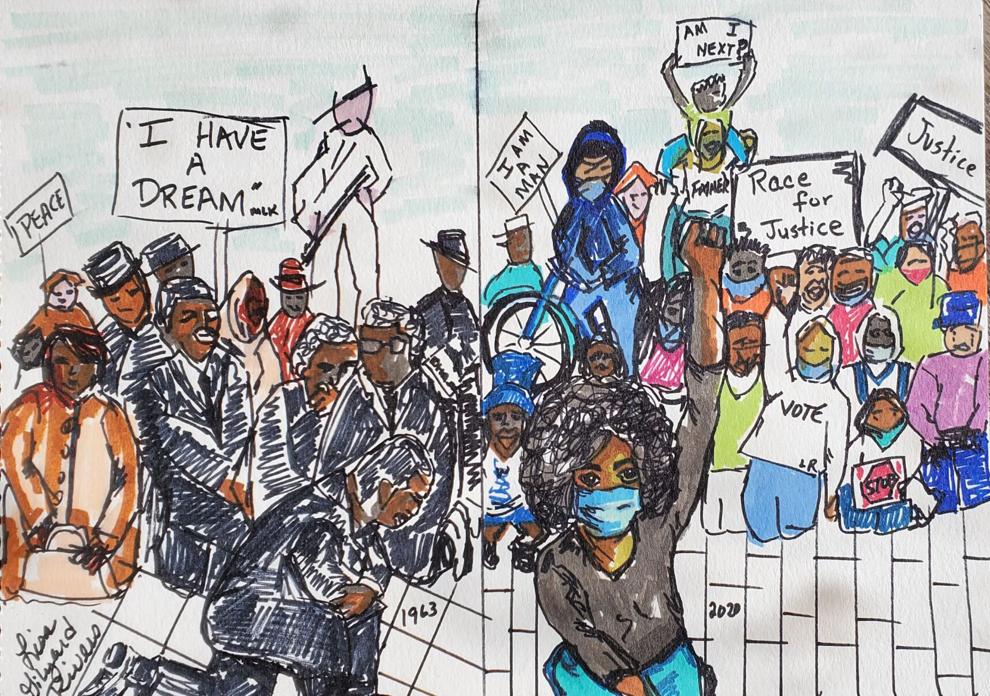 "It's amazing to see the progression of kids coming into the drumming circles to lead the circles and becoming more confident," Mims said.
Heal with Hearts began by integrating arts programs into Charleston County schools and involving patients at MUSC Shawn Jenkins Children's Hospital in music therapy. Since then, the initiative has been present in 18 Charleston County schools and at the Pour House for a decade, thanks to funding from the South Carolina Arts Commission and individual donors.
Hopes this year are to purchase more drums to add to the roughly 25 the group has collected over the years and embark on a year-long residency at a local school, Mims said.
Typically, the group runs nine-week programs integrating art, dance and music in schools – recently, St. Julian Devine Community Center and Sanders Clyde Primary School.
Heal with Hearts has also worked on programs that combine arts enrichment with literacy. One of the current goals is to secure a one-year residency at a school in Charleston that would focus on both endeavors.
It would also be great to expand the music program beyond drums to include guitar, piano and other instruments, Mims said. However, the pandemic has hampered the organization's fundraising efforts, so no plans have yet been made.
The James Island drum circle is a constant, however. For a while it moved to the outdoor parking lot to provide enough space to spread out during the pandemic. But now he's back on the terrace and just as popular as ever.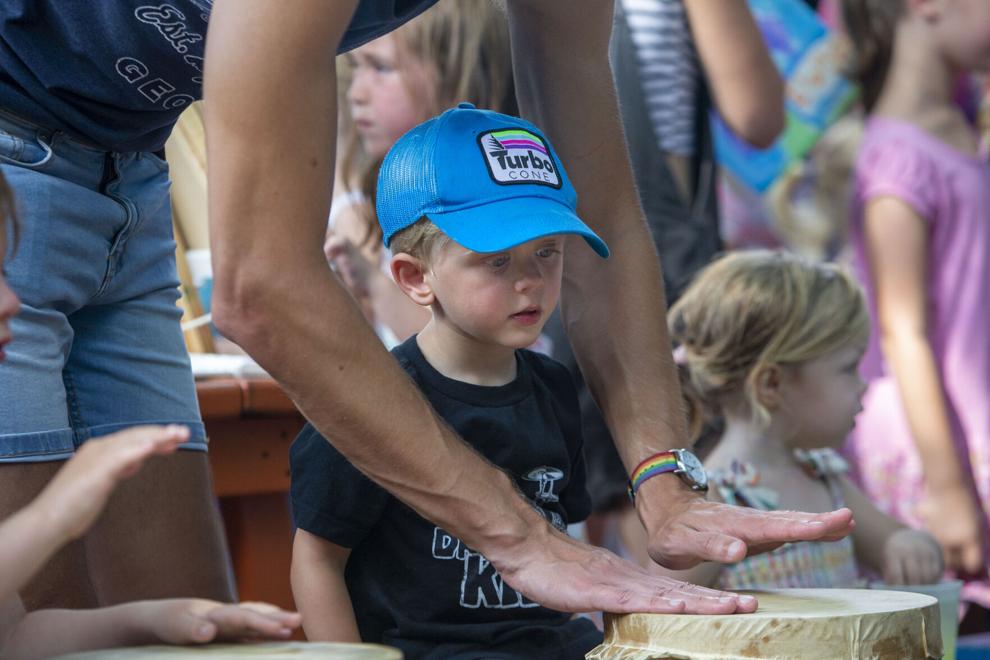 For an hour, at least 60 parents and children came together to play drums and create art.
Tara Irving, who moved to Charleston from Savannah in December, said she loves the number of kid-friendly activities the Lowcountry has to offer. It was her first time participating in the drumming circle with her children, Ellebelle and Gene. She found the event online.
"It's a big selling point to be here," she said.
Sam Walters of Summerville and his 4-year-old son, Derek, were also part of the drumming circle for the first time.
Derek has drums at home that he enjoys playing with, but it was a whole new experience, Walters said. She got a video of him beating the drum, as many other parents documented their children's participation in the group activity.
Jamison was all smiles as he showed off more West African rhythms to the groove group, some timidly tapping, others pounding. While a few older children seemed curious to improve their own skills, many youngsters were all laughing, engrossed in pure fun.
"That's what it's all about," Jamison said.
The next drum circle will take place from 4 to 5 p.m. on August 6 at the Pour House. Mims hopes the tradition will celebrate another 10 years. It's definitely on the right track.