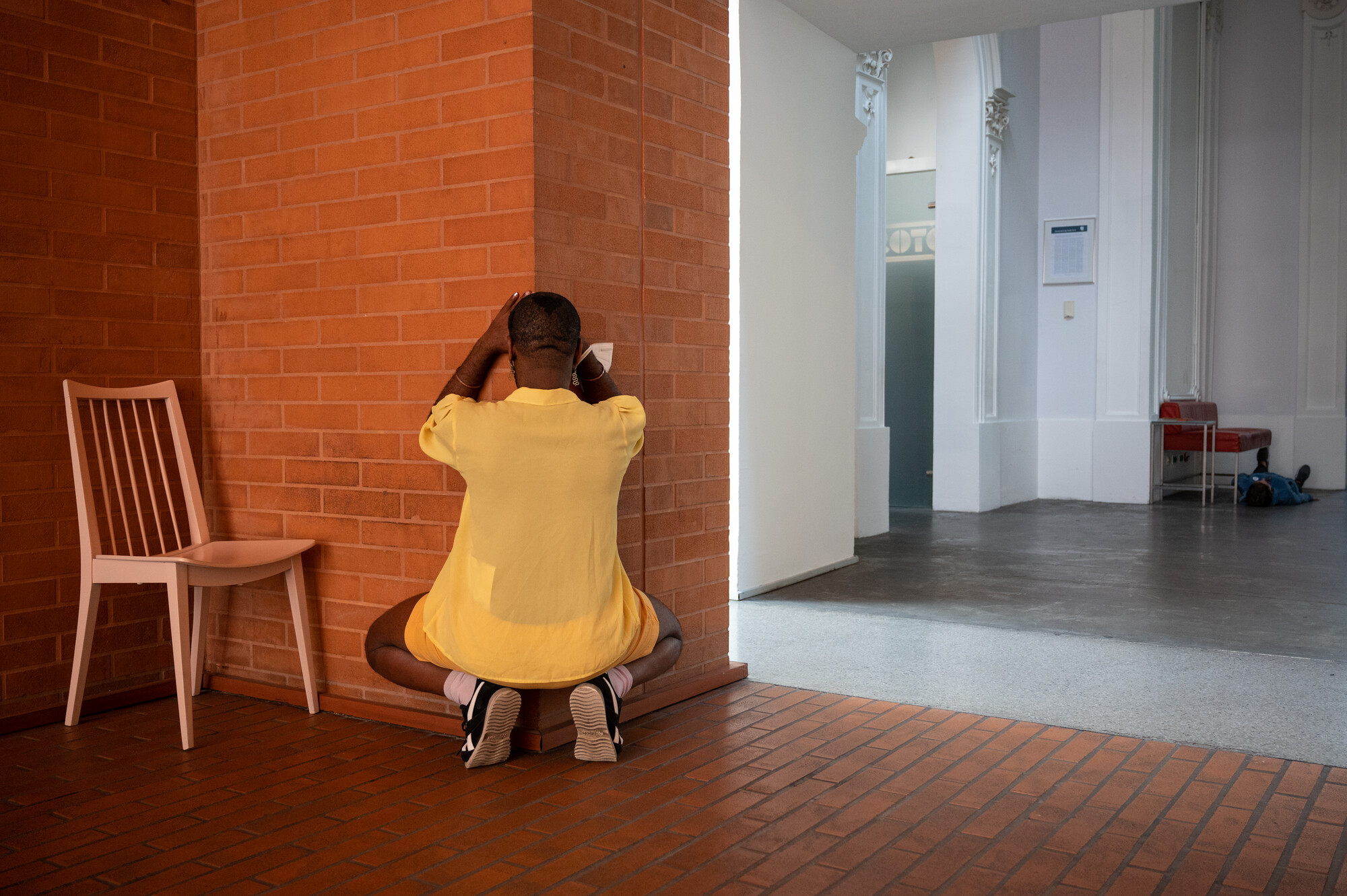 Since its creation in 2001, the Tanzquartier Wien has been a key player among European dance houses and an important part of Vienna's cultural landscape. Located in the MuseumsQuartier and in the heart of the city, the international co-production house will celebrate its 20th anniversary with the event series 20 years of TQW: Past / Present / Future in autumn 2021. As part of the special program, the Tanzquartier Wien presents performances by Manuel Pelmuş and Isabel Lewis in cooperation with two renowned Viennese exhibition spaces — Kunsthalle Wien and Belvedere 21. Cooperation with other cultural institutions have always played an important role in TQW programming. These cooperations also underline that today's artists mainly work at the intersection of different media and art forms.
Manuel Pelmuş: Permanent collection, action in progress, 2021
In cooperation with Kunsthalle Wien
Permanent collection is a continuous live-action intervention, built around the notion of a permanent collection. The work is performed by a group of performers who transform and remedy references to art history, cultural artefacts, contexts, events, texts and gestures using only the body as a medium. Enactment is used as a performative strategy that delves into the context of specific places and institutions, moving freely between strict classifications and notions of ownership, alluding to the possibility of a heritage embodied and shared in common . For this reason, Pelmuș envisioned a collaborative protocol through the linking of entities and spaces as part of an effort to co-create and at the same time experience a constellation of memories, affects and of knowledge: At Kunsthalle Wien, Permanent collection is performed continuously for four hours each day. Simultaneously, a dancer will also perform Permanent collection at the Museum of Public Transport in Timișoara, Romania. Literally move together. Although there is no visible link between the two spaces, the knowledge that emanates from their common movements connects the audiences of the two cities, thus opening up a territory of participation and placing the performers and the audience in a fluid alliance and open, co-present in both imaginary and real space-time.
Isabelle Lewis: Urban blossoming, 2018-present
In collaboration with Belvedere 21
This live artwork by Isabel Lewis is a guided collective listening experience in an expanded and fully sensory way. As an embodied experience, it encourages the listener to connect with their inner world in order to become more radically receptive to their outer world – to the sounds, voices, music and vibrations of the urban material: life. urban and non-life. Lewis incorporates influences from dance, performance and active listening practices into a hybrid body attunement practice that suggests modes of engagement with our built environment alternative to those otherwise offered to us in the forms. highly regulated and standardized urban existence today. Lewis focuses her performance and speech on academic Carolyn Dinshaw's notion of 'queerness of time' in her book 'Medieval texts, amateur readers and the queerness of time and feminist sociologist Roslyn Bologh's notion of "erotic sociability". Lewis, like Dinshaw, is interested in "forms of being wanting and embodied which are out of step with the ordinarily linear measures of daily life, which engage heterogeneous temporalities or which precipitate completely out of time".