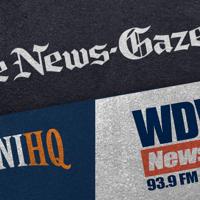 As this fall of renewal progresses, various music groups from the University of Illinois are once again meeting the audience live.
On November 14, the UI Chamber Singers performed a free concert at Smith Memorial Hall. This group is described in their program book as the university's premier choral ensemble, comprised of experienced and exceptional singers from across the student body. Twenty-eight in number, with seven voices for each vocal group, it is conducted by Andrew Megill, director of the UI choral groups, with Matthew Christopher Shepard as assistant conductor.
This beautiful formation offered a vast concert entitled "Let's Touch the Sky", composed of vocal settings of 21 texts by 15 composers, starting with Josquin Des Prés (1450-1521), but mainly oriented towards the 20th century. . Eight pages of poetic texts offered the opportunity to engage in active listening by members of the public. To save space, I refer below to the titles in English translation.
The first section, titled "Songs of Loss", was decidedly autumnal, with "Thousand Regrets" by Josquin, "Late Fall" by Johannes Brahms and "All My Stars Forsake Me" by Samuel Coleridge-Taylor drawing an emotional line down. . The second group was made up of the evocative and more joyful "Three Breton Songs" by Dutch composer Henk Badings. The three texts and their staging could be described in turn as pantheists, Catholics and lovers.
The third section, "Gypsy Songs", featured lively and joyful productions by Johannes Brahms, who learned a love of gypsy music early on by touring with Hungarian violinist Eduard Reményi.
Between sections 3 and 4 have been inserted two famous solo songs, "All Souls 'Day" by Richard Strauss, sung with touching emotion by Reagan Stohler, and "Litany on All Souls' Day" by Franz Schubert, sung with retained but insightful tones by Lewis McAdow. Pianist Wan Lin accompanied on the piano with sensitivity.
The fourth section, "Songs of Memory," presented a world premiere of UI professor Stephen Andrew Taylor's set to music, taken from Sanskrit, entitled "Their model still there". This brief setting to music of a WS Merwin translation was sung by solo voices and slowly moved to an ascending climax, then fell to a sober ending. The composer was called out to the audience by Megill and received a warm applause. After this section, viola Miranda M. Rowland sang the brief but memorable song "Waitin '" by William Bolcom.
In the fifth section, "Words of Langston Hughes", the Chamber Singers vigorously interpreted Margaret Bonds' setting to music of one of the most famous African-American poems, "The Negro Speaks of Rivers" by Hughes. This was followed by the setting of "Litany" by John Musto and the exciting version of "Fire" by William Averitt.
The title of the sixth section, "Nadia Boulanger Connection", referred to the American students of this famous French teacher Boulanger. Elliott Carter's setting of Emily Dickinson's "Heart, Not So Heavy as Mine" ended beautifully with overlapping vocals. Irving Fine sensitively treated Ben Jonson's superb lyrics, "Have you seen but the white lily is growing…", and the group ended with Louise Talma's cheerful directing of "Let's Touch the Sky" d 'ee Cummings. Talma's setting to music was added the lovely instrumental coloring of Danielle Nuttings' flute, Kaitlyn Dunn's oboe and Christine Breeden's bassoon.
The concert ended with section seven, "The Passing of the Year". John Dow's hesitant and sad treatment of "Farewell!" Goodbye the happiness of the Earth! Was followed by a triumphant end to the concert with Dow setting to music of Alfred Lord Tennyson's millennial poem, "Ring Out, Wild Bells".
After hearing an afternoon of superb vocals from these expertly trained chamber singers led by Andrew Megill, we in the audience were sent into the cold of November with Tennyson's words still echoing in our memory. :
"Ring out old forms of foul disease; Ring the shrinking lust for gold; Ring out the thousand wars of yesteryear; Ring out the thousand years of peace.
John Frayne hosts 'Classics of the Phonograph' on Saturdays on WILL-FM and, in retirement, teaches at UI. He can be contacted at [email protected]