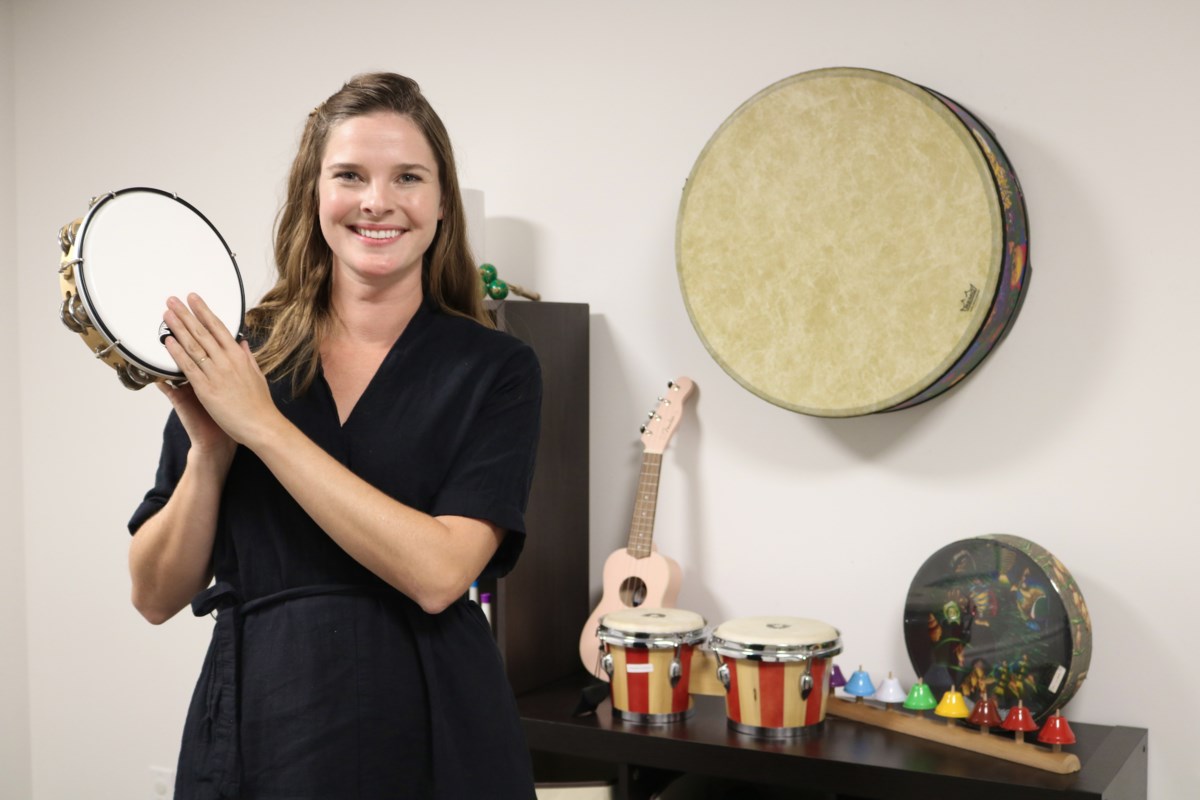 "I think it's a healthy form of expression," said Mary Meads, director of Wellington Music Therapy.
There's a crescendo in demand for music therapy in Guelph, a music therapist has said.
Mary Meads is the director of Wellington Music Therapy, a music therapy clinic that offers a variety of music therapy and music education programs. The clinic serves clients as young as three months old and as old as 103 years old.
"I found there was such a need that the business snowballed," said Meads, who opened her practice in 2015 and had to move to a new location at 55 Delhi St.
"When I first moved here, we were just two music therapists in Guelph, and now we've grown to 15."
Music therapy is the use of music and non-musical elements to help achieve non-musical goals. Meads notes that there are different types of music therapy, including music psychotherapy, music-focused therapy, and guided imagery and music.
"It's not about learning music, making great music, or making great music. It's about actively engaging in music to work on non-musical goals," said Meads. "In music therapy, what's most important are the other things, right? The other things, self-esteem and the building of self-esteem. It's not a reflection afterwards, that's the active reason you're in music therapy."
Meads adds that residents do not need to have a specific diagnosis, or any diagnosis, to access their services.
"We use the personal being of every client worldwide as a starting point, and together we find ways in the therapeutic process to move towards empowerment, self-confidence and personal awareness, and then we can use music to address the variety of other needs we've talked about," Meads said, noting that they also offer some pro bono sessions and help families apply for funding.
Music therapy outcomes can be diverse depending on people's needs, Meads said. Some goals that music therapy can help achieve include improving communication and social skills, motor skills, cognitive function, and emotional intelligence.
"You come in, you make music, you write songs, you play and play with your friends," Meads said. "All of these amazing things happen with a therapist in a therapeutic space, and you're moving towards change, but it doesn't often feel like it."
During the pandemic, Wellington Music Therapy has seen more people come to try music therapy to address mental health and wellbeing. Meads explains that music therapy can be a complementary option to traditional forms of treatment because music triggers endorphins in the brain, helps people explore self-expression and build social connections.
"Like, you're a seven-year-old girl being bullied at school and you're going to write your own song about what it feels like and who you are, and you're not going to talk to a therapist about it, like you were writing a song like a super cool songwriter. It's way cooler and way more motivating, isn't it?"
In Canada, the Canadian Association for Music Therapy was incorporated on May 6, 1977, and six music therapy education programs are offered across Canada. In Ontario, music therapists can also be members of the College of Registered Psychotherapists. The music therapy movement was started by three women in the 1950s named Fran Herman, Norma Sharpe and Thérèse Pageau.
"Many of these pioneers worked very hard to raise the profile of music therapy as a profession," Meads said. "It's a similar profession to massage therapists. I think it's very misunderstood. There's an oversight body that backs us up and makes sure we work ethically and within our framework."
Meads says the profession isn't particularly diverse, being predominantly female and white. She notes that Indigenous, Middle Eastern, and Chinese cultures already used music intentionally for health and well-being.
"Our training as music therapists is based on a western understanding of what music therapy is, as well as a western understanding of music and a western understanding of wellness," Meads said. "I think as a field it's so white-centric, and we still have a lot to do to deepen our understanding of what that means for our profession."
As a clinic, Meads said it has therapists who identify as BIPOC, queer and neurodivergent who make up their Anti-Oppressive Practice Panel which oversees monthly meetings with other clinic therapists.
"They help us understand our own relationship with anti-oppressive practice and try to find ways to dismantle it in our own practice so that we practice with a lens of social justice and listen to our clients," Meads said.
She adds that the current requirements to become a music therapist also impact diversity in the profession. Currently, music therapists must complete a 1,000-hour, often unpaid, internship as part of their requirements to become certified. With this requirement, Meads said many people who are passionate about music therapy cannot enter the profession because they cannot afford it.
"I think there's a lot going on already, but I want to do what I can to lower the barriers to becoming a music therapist," she said.