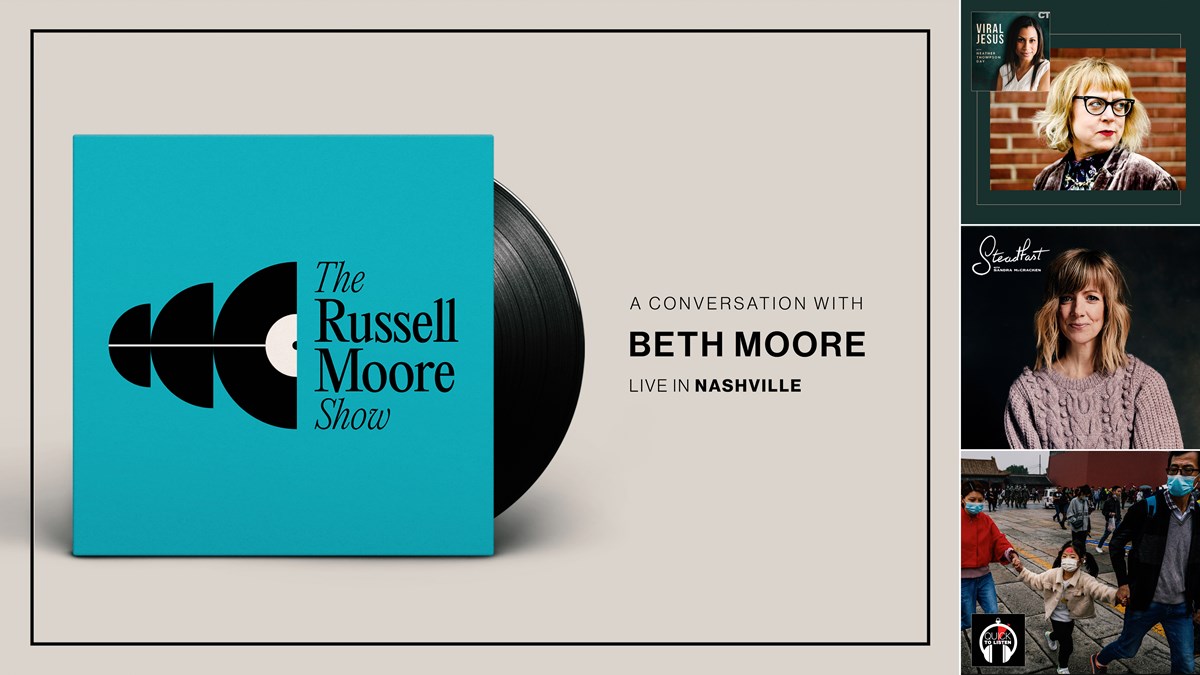 2021 has been an exciting year for podcasting in CT. In addition to launching The rise and fall of the hill of Mars, our first long-running narrative series, we continued to produce a diverse network of shows, such as Quick to listen (about to start her sixth year), Cultivated, and new shows like Adopt Hope, the Art of the Shepherd, and Church law. To close the year, we asked our podcasters to share their favorite episodes from 2021.
Mike Cosper, host of Cultivated and The rise and fall of the hill of Mars
I will start with an episode of Cultivated since the beginning of January 2020: a conversation with my friend Makoto Fujimura. We talked about Mako's work as a painter who blends global and historical traditions, his sense of the world as a place of abundance, and the mysterious relationship between suffering, trauma and renewal. It was a remarkable conversation, filled with hard-earned wisdom from Mako's own death and resurrection experiences.
Morgan Lee, co-host of Quick to listen
I've known about the one-child policy in China for almost as long as I've known the country itself has existed. The same is true of the persecution the church faces at the hands of the government. But I had never heard much about how Christians themselves treated these policies. After China officially began allowing families to have three children, longtime house church pastor Raymond Yang joined Quick to listen to share his story about the advice he heard from Christian leaders when his wife became pregnant with their second child and the cost it imposed on their families for the birth of their son. It is a privilege to host a show where we hear members of the body of Christ struggling with how to live their faith, even when it calls for sacrifice.
Ted Olsen, co-host of Quick to listen
My favorite Quick to listen episodes are where we start with great ingredients but have no idea what we're up to. I knew "Old Testament Wisdom for Renaming Public Schools" would be a good thing: we had some heated debates, some rough thoughts on biblical concepts that might connect, and a brilliant guest. I didn't expect to have so much fun talking about how much God cares about the identity of people, places and communities. It was a very 2021 episode, but one that I'll be thinking about in five and ten years.
Heather Thompson Day, host of Viral jesus
My favorite episode from our first season was with Karen Swallow Prior. She explains that it is not enough to have a platform; we (the content creators) have to do the job. And if we faithfully serve the work, it will create the basis of our platform. It's a conversation I want each of my students to listen to.
Sandra McCracken, host of Closed
If you only have a few minutes, my conversation with Curt Thompson offers us warm therapeutic encouragement as we all slowly recover from the past disorienting years. Beauty and community are true vectors of the hope of God here and now.
Russell Moore, host of The Russell Moore Show
My favorite episode would have to be The First, a live event with a studio audience recorded here in Nashville. My guest was my friend Beth Moore, to talk about "Lessons to Go and Stay". Afterward, as we stood and chatted with guests and friends, I continued to hear listeners say the same thing about this episode: "I didn't expect to laugh. And they were right, we laughed together throughout the episode. It has become kind of a metaphor for me, not only of this episode but also of the last few years: a new joy on the other side of pain, a new community on the other side of exile.
I realized 2015 Russell Moore couldn't have hosted this episode. And in 2015, Beth Moore would not have shown up with photoshopped slides of my "baby photos". Neither of us could have done this show in 2020. But we were there.
Guess that's why I love this episode the most. It represents what I have learned over the past half decade, that there is joy in unlikely circumstances, community in unlikely places, friendship in unlikely people. And, in all of it, the same Jesus that was there to begin with. Guess what I mean is I didn't expect to laugh.
Rasool Berry, host of Where do you come from ?
I absolutely loved my conversation with Christina Edmondson. We often feel that we have to choose between dealing with serious issues of injustice or embracing a life filled with humor and joy. Dr Edmondson breaks down this false choice thoughtfully and with a lightness that reveals his fascinating point of view: "Laughter and trauma live in the same building. In these times, when we have had to contend with the absurdity of life, his ideas are refreshing and encouraging.
Ronnie Martin, co-host of The art of pastoral care
I really enjoyed our episode "The Ministry in the Face of Fear". It was a great opportunity to discuss the common thread we share with all pastors, which is that we all struggle to believe that God goes before us. This is probably a universal theme that we can highlight over the past couple of years, but luckily God has compassion on us in our weaknesses.
Jared Wilson, co-host of The art of pastoral care
My favorite episode of The art of pastoral care was the engagement Ronnie Martin and I had on anxiety (episode 1). As someone who suffers under this threatening shadow, in the ministry and outside, it was a very personal conversation for me, and I hope our transparency could encourage others as well.
Clarissa Moll, co-host of Surprised by sorrow
Estimates tell us that more than 167,000 children in the United States have lost a parent to COVID-19 since the start of the pandemic. In light of this heartbreaking statistic, I can't think of a more important episode. Whether you experienced childhood loss, are raising a grieving child, or are in regular contact with students at church or at work, "Suffer the Little Children" offers essential insight into grieving. childhood and explains how adults can love and support children as they carry burdens beyond their years.
Joyce Koo Dalrymple and Sasha Parker, co-hosts of Embrace hope
Brian and Amy Shaw tearfully recounted their adoption journey of seven children, knowing that Brian's battle with brain cancer was drawing to a close. Just five weeks after the episode aired, Brian, at the age of 47, went with his Jesus. Amid unexpected and painful circumstances, the Shaws chose to hope over and over again. Even in the interview, they showed their 11 children the reality of eternal life and Christ's deep love for each of them. Brian's heartfelt cry was "My life is Yours, Lord, glorify Yourself."
Oliver Hersey, co-host of Transform discipleship
As someone passionate about building healthy communities, I have found this conversation with Scot McKnight very informative. He is brilliant and fair with his suggested habits to create a good culture. In recording this episode during Lent, we also chose to offer questions that would help listeners assess the levels of good and bad in their own communities by looking at themselves and their communities, and seeking to speak the truth. on what God reveals.
Kevin Miller, co-host of Monday morning preacher
Alison Gerber draws on her background as a screenwriter to help us bring biblical scenes to life. This episode changed my preaching more than any other from 2021.
Steve Carter, host of Craftsmanship and character
Steve explained what leadership anxiety is, how easy it is for pastors to experience this on a daily basis, and gave a deeply practical insight on what to do about it. One of my favorite moments from the podcast was when Cuss unpacked his bags when a devotee sent him a simple text about a walk and how that simple request to text caused all of these internal stories based on the anxiety. He reviews this and shares a simple practice for dealing with your leadership anxiety.
Erika Cole, host of Church law
This first season of Church law podcast was so well received by you, our listeners! You told us that the podcast is a "must have addition to the podcast world" and that the information shared is "timely and relevant … [for addressing] church and ministry issues.
While I enjoyed sharing each episode, Episode 8 gave voice to a critical issue. Research shows two-thirds of churches do not have a written succession plan, and with changes in church dynamics (exacerbated by COVID-19), many pastors and church leaders are committing to plan for the longevity of their church.
Check out the rest of our 2021 year-end lists here.