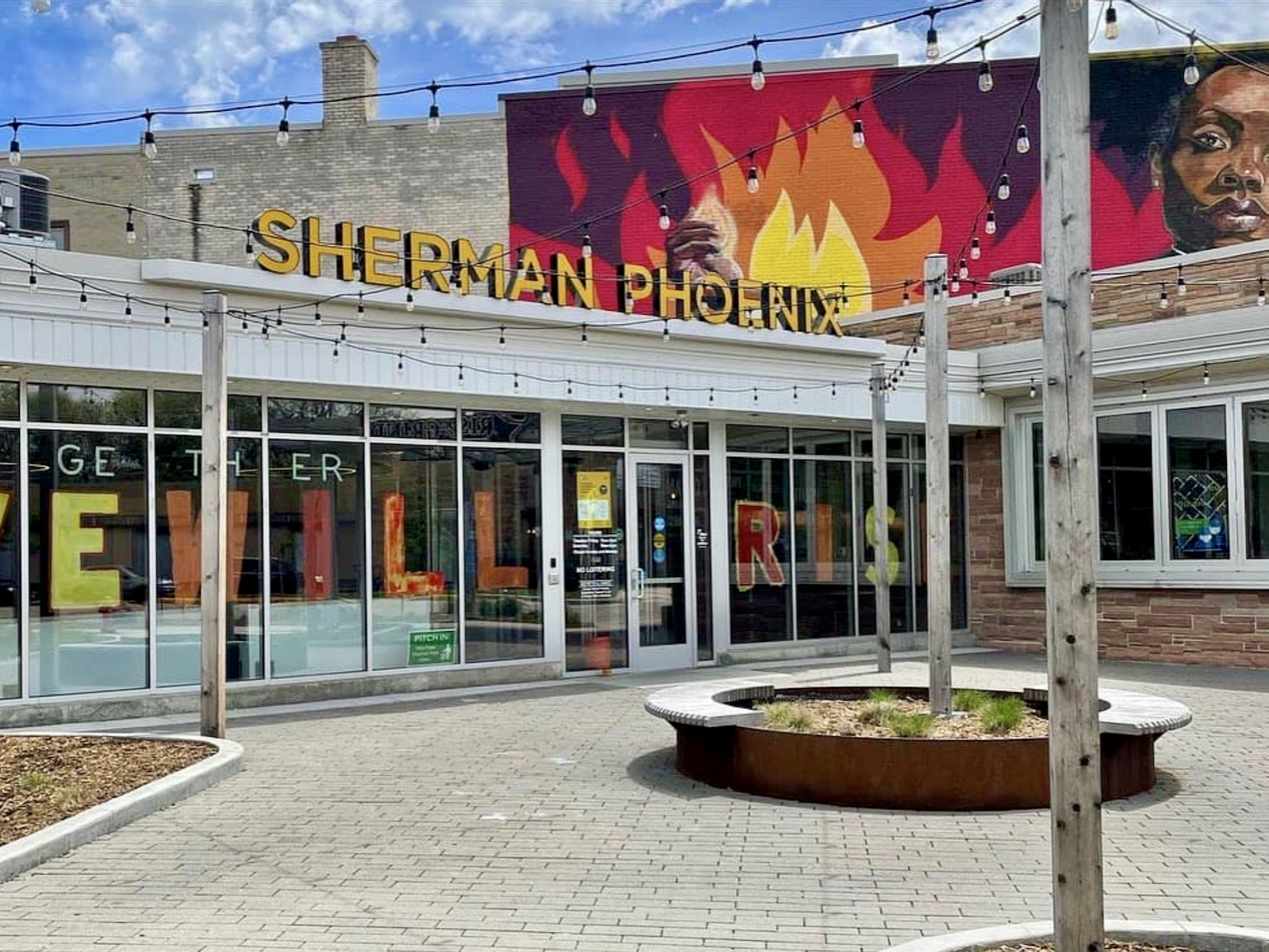 Much has changed since the Sherman Phoenix opened in 2018 at 3536 W. Fond du Lac Ave., establishing an entrepreneurship hub and community gathering space east of the Sherman Park neighborhood.
Among the more recent changes is an update to the name of the location, which is now called Sherman Phoenix Marketplace.
The new name was one of the suggestions put forward by the Harvard Business School field study team, who spent time this summer thoroughly examining the Sherman Phoenix. The idea behind it was that the word "marketplace" helped clarify the outward-looking purpose of the central city's entrepreneurial hub as a place where visitors can shop, eat, drink and enjoy a variety of services.
"It breathes clarity into the expanding vision of the Sherman Phoenix, even as the legacy we've built continues," said JoAnne Johnson-Sabir, co-developer of Sherman Phoenix Marketplace. "It gives us a more holistic way of looking at our community. It is a place for all who live, work and serve in the community, and our engagement with our neighbors continues to grow and be reinvented.
Along with the name change, the Sherman Phoenix Marketplace has also launched a contest, which gives the community the chance to vote for one of four new site logos. Community members who vote in person will be entered to win prizes including a $50, $75 and $100 gift card to their favorite Sherman Phoenix Marketplace business. The winning logo will be announced via Facebook Live on September 4 during the Front Porch Music Series taking place at the Sherman Phoenix Marketplace from 3:00 p.m. to 6:00 p.m.
True to its identity as a local commerce hub, the Sherman Phoenix Marketplace has modernized its operations and facilities to better serve community members, shoppers and business owners who visit the space. These upgrades include the addition of an ATM that will not charge BMO Harris Bank customers a fee, an updated website, and expanded hours and hours that extend to 7 p.m. p.m. Tuesday through Saturday.
Last summer, the venue also expanded its reach and work by launching its nonprofit arm, the Sherman Phoenix Foundation, led by Executive Director Stacia Thompson. In addition to the foundation's work to build inclusive and just economies for communities of color, she also leads programming for the marketplace with a focus on community building.
This includes offerings such as Tarsha Wiggins' Youth Trap Therapy, which combines urban hip hop music with conversations about mental health and emotional well-being, the Front Porch series live music events and BlackOut pop-up markets, which feature local makers and community entrepreneurs every third Saturday of the month. The next markets will take place on September 17, October 15 and November 19.
"We've been able to really focus on value-added programming," says Thompson, "on small business success and community events. We've also been able to partner with other like-minded organizations, including Discovery World, which brings the Kohls Design It! Lab at the Sherman Phoenix Marketplace.
The foundation has also partnered with entities such as BMO Harris Bank and Goodwill Industries, which offer personal finance and workforce development resources. Banking experts are on site at the Sherman Phoenix Marketplace on the first Tuesday of each month from 11:00 a.m. to 1:00 p.m. Workforce Development Specialists are on site the first Wednesday of each month, beginning at 11:00 a.m. at 3:00 p.m.
Thompson says the rebranding and programming both contribute to increased awareness of the variety of businesses that operate at the Sherman Phoenix Marketplace, from favorite food vendors like Funky Fresh Spring Rolls and Lush Popcorn to a wide range of others. businesses ranging from hair and beauty brands to business services.
All you need to do is check out the current list of over 25 black-owned businesses occupying the space to see the growth that has taken place since the Sherman Phoenix's inception.
Food and drink
Buffalo Boss (wings and sides)
Confectionly Yours (desserts)
Funky Fresh Spring Rolls (baked spring rolls, specials)
Junior's Smoked BBQ & Veggie Soul (smoked meats, vegetables)
Lush Gourmet Popcorn
Ice door purple
Rise & Grind Cafe (breakfast and lunch deals)
Who's Cooking (ephemeral kitchen run by several chefs)
Happy Days Day Bar (coming soon)
Hair and beauty
Hair salon of the 2 kings
Hello Beautiful (makeup services)
The Lash Factory (eyelash extension salon)
Milwaukee Tattoo Society (tattoo shop by Rahdahshay Dortch)
Rhoyal Trinity (natural hair care)
Salon Lavish (hair and nail salon)
Valencia Lynn Beauty Bar (nail spa)
Purchases
Art Generator (art)
Queen's Closet (clothing shop)
The Underground Makers Market (The Classic Shoppe, At Peace
Designs, Butterscotch Baby and J. Riley)
Kujichagulia Producers Cooperative (collective of entrepreneurs)
The well-being
9th cloud massage therapy
AMRI Consulting
Bloom Art Therapies
Hands at Home
Kujichagulia Producers Cooperative (herbal wellness, body care)
Business services
SoGreedy (event and lifestyle brand)
24 hour protection (security)
Core Community Services (non-profit organization focused on health,
well-being, well-being)
CTRL+C (copy and print services)
Tr3s event planning and styling
Sherman Phoenix Marketplace spaces, including the mezzanine and art gallery, are also available to rent for private events. For more information, visit shermanphoenix.com

The Sherman Phoenix Marketplace is open Tuesday through Friday from 11 a.m. to 7 p.m. and Saturday from 10 a.m. to 7 p.m.