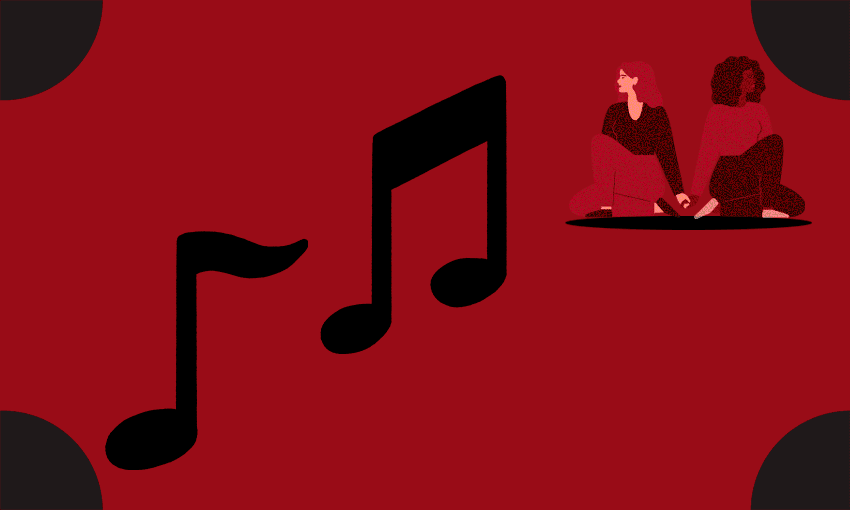 [ad_1]
Calls for change in the music industry have grown louder than ever. Jessie Moss finds out what to do.
It has been a calm and frustrating year for the music industry. Concerts postponed and canceled. Recording sessions pending. It has also been a year of recalibration and reflection for many who work to improve the industry; in particular, how to make it more secure.
years of media and personal stories documenting the abuse of women in the industry, and the high rates of women dropping out of the music business altogether, show that there is an urgent need for change.
But a year after APRA and Massey University's 2020 Gender Diversity Report, Amplify Aotearoa, what tangible progress has been made? With the return of musicians on stage this summer, will their workplaces and their audiences be safer?
Singer Katie McCarthy-Burke says she has been the victim of harassment many times. When playing in private, she explains, "there's no security, there's no St. John's. Because it is a private party, there is a lack of accountability. People will behave as they want. She says alcohol and drug use is common at public and private events. "In this situation, I already feel a loss of control. As a performer, this environment is quite dangerous.
The APRA report showed that 70% of its registered writers experience gender bias, discrimination and disadvantage; this is seven times the rate of men surveyed. In addition, almost half of them said they did not feel safe in the places where music is made and played. Of all the disparities that the report highlighted, it is the findings of danger to women and their precariousness in industry that are the most obvious and urgent.
Massey University Lecturer Catherine Hoad and Associate Professor Oli Wilson, authors of the report, expressed concern when data from the Tertiary Education Commission showed that first-year music school enrollments at the nationwide were led by men. "We attract a certain demographic to study music," Wilson explains.
Hoad added that the trend in university studies in other fields is slightly in favor of students who identify as women; the field of music is an anomaly. Wilson says that by viewing the data, they immediately had an interest in correcting it. "We are motivated to achieve the best results for our students in order to work towards a fairer industry. That's why we picked up APRA's phone.
Hoad says the numbers – 60% of men to 40% of women in the first year of study – send a clear message. "It's a widespread problem, and we have numbers to back it up. We need to take a serious look at what we are actually doing to change the conditions on the ground for women and people of diverse genders working in the industry.
RadioActive Program Director Harri Robinson said her team always strives to keep abreast of "the company's current feelings on nuanced issues." She is committed to making her community safer and says the job is never done.
"We have 40 years of history and a very dedicated fan base. With that comes a social responsibility to ensure that we maintain ethical, inclusive and opportunistic environments as much as possible. This kaupapa is never finished.
When entering the station, you cannot miss the signage clearly indicating their position on sexual abuse. "What does the intervention of witnesses look like?" Reads a poster. "When you see sexual harassment #dosomething". The team are clear on their policies, and Robinson says no one is above reproach. "No one in this industry, whatever the intentions in this space, is above the things that go wrong. This is to make sure that if things go wrong, we take the "someone who has been harmed" approach first.
She knows this is a difficult subject to broach. "No one likes to talk about injured people, especially in such a tight-knit and tight industry as New Zealand. It is so important to give people safe spaces to talk. I have found a whole bunch of new foundations. help I hadn't heard of. I thought, if I haven't heard of it, maybe our listeners either?
Promoter Lucy * works hard to keep her organization's expectations and policies clear. Prioritizing the success and well-being of women has become a central part of her career.
Having been in promotions for many years and seeing the failures of the industry, Lucy found herself motivated to run her own festival to create more opportunities for women, both on and off the stage. In addition to finding women to perform, its festival's security team was mostly made up of women to reduce bullying and increase accessibility.
Lucy is very open about what she does. "We're not going to hide it. This year, we have developed a code of conduct and a complaints process. We hire young women, [so] we have to have things in place to make them feel secure, a professional border. We set expectations. We have zero tolerance for sexual harassment.
Promoters, like venues and management, need to consider both musicians and the audience, as musicians' workspaces are often spaces for public recreation.
McCarthy-Burke often feels like audiences don't think of music as work, and that's a problem. "We have the same rights as anyone in an office building. It's work. I don't need people to come and try to kiss me while I'm doing my job. Whether it's other musicians or the crowd, it's inappropriate and it's not safe.
For the past year, the music industry action group SoundCheck Aotearoa hosted professional respect training workshops with the goal of "developing and growing our industry through a safe and inclusive culture". One of its objectives is to give musicians an understanding of their rights and responsibilities at work; while most are self-employed, that doesn't diminish the fact that anyone who hires a musician is an employer. Both have a responsibility to ensure safe workplaces, including preventing and dealing with harassment and sexual harm.
However, dealing with harassment and harm in the workplace is not as easy as knowing your rights.
When she experienced harassment, McCarthy-Burke called on her group mates. More than once she has been left to deal with situations on her own. "If no one in your group is doing anything to protect you, you get this message that no one cares about you, so just keep going."
She said the message was clear: "Don't make a scene. You are just there to sing and be quiet. I am put in a position where I have to choose whether I want to be seen as a rocking boat or keep my head down.
She knows that women in the industry suffer more, expressing her frustration that "that doesn't happen to you guys." She feels like she is replaceable if she has a problem. She wants the musicians themselves to express themselves, especially the men. "[It would be good] to know that someone was ready to let go. The problem is, most people feel like they're literally putting their necks on the chopping block to stop the abuse. How did it become something you would be vilified for, being an ally for someone who is being abused? "
Former bartender and artistic director Indigo * has seen and suffered sexual harassment at work. "This stuff doesn't happen where no one can see it. The most humiliating thing is when you are in public and the whole room can see you.
Despite his experiences, Indigo is hopeful. As a young woman who has worked in several areas of the industry, she advises promoters and venue owners. While she likes to see Ask Angèle signs at sites, security personnel must also be on board. "It's frustrating to see young women being assaulted and then male security kicks them out because they don't know how to handle this situation.
When organizing a concert, Indigo makes sure to have a "kōrero" with the band, the venue manager, bar staff and security. It doesn't cost anything to do that.
Wilson is hopeful. "My optimism comes from the fact that our graduates are the ones leading this change, who are technologically equipped, but also with a critical understanding of power and how power relations dictate working relations in our industry, which we know through our work is highly gendered. . "
For Lucy, an ideal world would be one where "women have been booked for time slots and where the crowd is diverse and safe. Where the sexual damage is low and the intoxication is low. To enjoy live musical experiences. This is the vision of my event, to try to change what I can.
* Lucy and Indigo were interviewed anonymously. These names protect their identity.
Find out more or ask for help:
Wellington, January 17: Safer spaces in music education hui.
SoundCheck Aotearoa training and events
SoundCheck Aotearoa reporting tools
[ad_2]