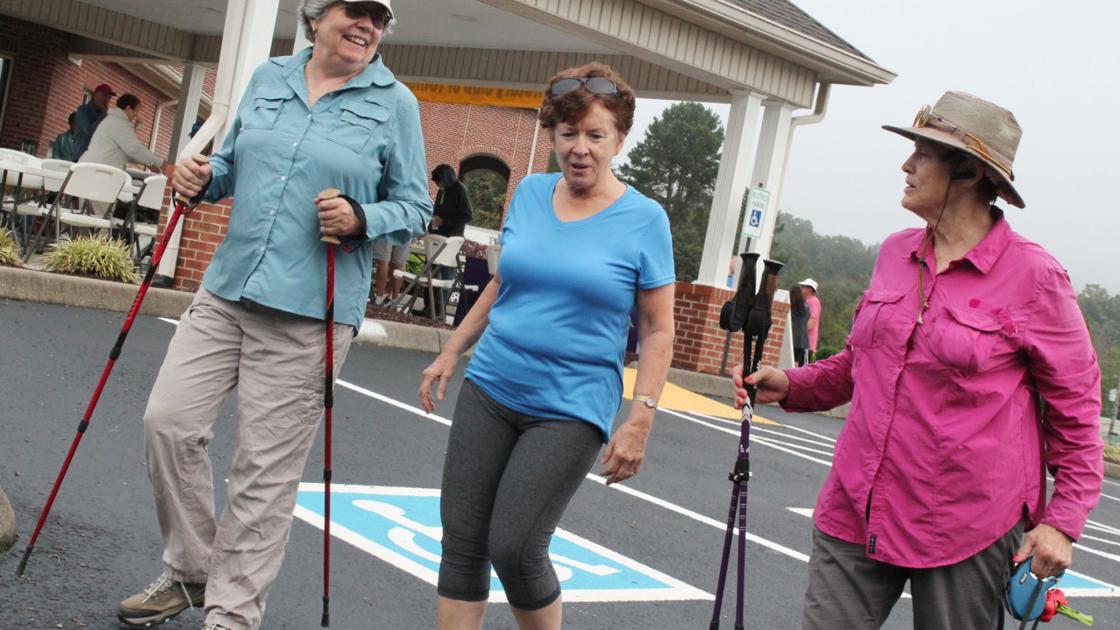 Several local residents, some armed with trekking poles, marched with a goal on Saturday morning.
The Tellico Trek "Walk to Remember" went off without a hitch outside the First Baptist Church in the village of Tellico. Money raised through the Tellico Lake Rotary Club event will help fund Our PLACE, a day care center dedicated to Alzheimer's and dementia care.
John Everson, co-chair of the event, said attendees were asked to donate at least $ 20 for a two-mile walk, a 5-mile walk, or a two- or four-mile hike. Although a final amount could not be determined by the News-Herald, Everson hoped to raise at least $ 2,500.
"Rotary has been a great partner from the start in helping us get Our PLACE off the ground," said Jim Dezzutti, President of Our PLACE. "Their continued efforts to support us will make a big difference to the community. "
Our PLACE offered a booth for visitors looking for more information about the center, run by Ginny Ranck, member of the board of directors of Our PLACE.
"This is really going to help a lot of the needs for our programs," Ranck said. "This is the purpose of the Remembrance Walk. The money will go for the equipment of the program, the music therapy, hopefully. … We couldn't have survived without all the charity events organized by the clubs and organizations in the area, from Lions to Rotary and everything in between, automobile clubs and small groups. Every penny counts.
This is the second time that Rotary's Tellico Trek has supported Our PLACE, with nearly $ 7,000 last year.
"So many families, especially as they get older, are affected by Alzheimer's disease and dementia," Everson said. "I lost my brother-in-law last year to Alzheimer's disease, so this Our PLACE program is going to be of great help to families with a member who has the disease. We saw that it was wreaking havoc on my sister as she was my brother-in-law's babysitter. … The whole goalkeeper support system needs all the help it can get. Most keepers, at the most, they can take three or four years, and then they get lost. "
Villagers Laura and Todd Haupt, along with their friend Mara Beets of Maryville, participated in the 5 km walk.
For Laura, walking meant a bit more after her mother died of Lewy body dementia two years ago. She said she wanted to walk in honor of her mother.
"A lot of people don't know a lot of the signs of Lewy body dementia, in particular, which involves a lot of hallucinations and there are different drugs and things that you need to do a little differently and how you treat people who have them. . It's different, "said Laura.
"And that merges with other dementias and Alzheimer's disease and things, so it's very specialized," Todd added.
Todd called the illness "brutal."
"Especially the toll it took for my sister and I, the caregivers who looked after her for two years," Laura said. "So any kind of facility that can give caregivers just a little time for themselves and their loved ones somewhere to go. They're going to have all kinds of activities, bingo and music so I'm going to be volunteering at the house itself and going there probably one day a week and volunteering. … It's amazing how many people their loved ones suffer from dementia.
Work on Our PLACE has gone well so far, said Dezzutti.
"We hired the CEO, which was a major achievement, and the person we hired has considerable experience working with Alzheimer's disease or dementia," said Dezzutti. "The building itself is ahead of schedule and we expect it to be completed by the end of December. We are looking at the second week of March for the opening of business. … The current plan is in January, we're going to move into the building and start putting everything in place.
Volunteer training will likely begin in January. Interviews with customers could start in February, he said.
The center is expected to help Loudon County and surrounding communities.
"We support local community growth activities, things that will make the community a better place to live," said Jim Wiese, president of Rotary. "We think this is one of the things that our community is sorely lacking, especially in Tellico Village, Rarity Bay, WindRiver. … It's more of a personal point of view than Rotary, but I have a mother who is in an assisted living facility in The Neighborhood (in Tellico Village) and for a year the only thing I could do was talking to her through a window, and I think COVID has taught us that we need a different approach to dealing with people we may never have thought of. … The longer you can keep people in their homes, the better it is for them.